________________________________________________________________________
1a. Cooking and cookware beyond the Viking answer lady
Posted by: "KAREN"
Date: Tue Aug 9, 2011 9:05 pm ((PDT))

Certainly some of you have done some good cooking over a fire. Any suggestions? Favorite recipes?
My wife, Vandy Simpson, worked up the original foodways programming for Parks Canada at L'Anse aux Meadows NHSC (Vinland). Although not massive, her blog
Daga's Cauldron
will be of interest to you:
http://www.dagdascauldron.blogspot.com
Does anyone know of pictures of period cookware?
Pottery, soapstone, grills, spits, ovens....?
I have put images of the original (Viking Age) artifact cookware next to my own replica ware on my own web site (the Wareham Forge) :
http://www.warehamforge.ca/NORSE-REPRO/norsecook.html
You will also find a lot of past cookware replicas, from a number of time periods on the Gallery - Historic Reproductions section :
http://www.warehamforge.ca/repro.html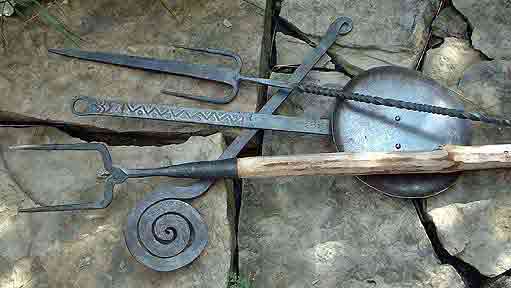 Viking Age cookware replicas & reproductions
Although I have not specifically dealt with cookware as a separate topic, there is general information on VA objects on the 'Creating Norse Replicas' section of the larger Norse Encampment series:
http://www.warehamforge.ca/ENCAMPMENT/artifact.html
Also there are some individual replica plan drawings, including some cookware, also in the Norse Encampment
http://www.warehamforge.ca/ENCAMPMENT/drawings.html
I have discussed a large number of individual reproduction projects on this blog (there is a search function on the top left corner!)
Sources where I can buy period cookware?
Obviously -

the Wareham Forge!

Some general observations:

1) You will get what you pay for. Accurate replicas of good quality are not cheap.

2) Watch that darn tripod! It is a problematic object on many levels!

3) Although it is possible to set dress thinner modern steel pots, the original artifacts are quite thick and massive. This drastically changes their cooking properties.

4) Cast Iron is

*

right out

*

.
Norse replica cook pot - on simple ring chain and rope hanger,


wood tripod.
Ok - I was short for a piece right now, so I dipped into my outgoing mail bag for this one...