A Juried Exhibit of Contemporary Artisans
Woodstock Museum - Woodstock Ontario
September 5 to November 1 - 2008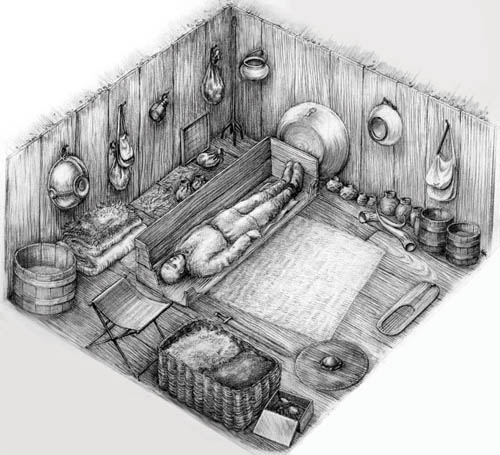 In Ancient times, providing for the needs of the dead into the after life often exhibited the best work of artist and craftsman. Much of what we know about these lost cultures comes from clues found in graves. Into the early years of Canada's history, people continued their own distinctive and often elaborate traditions around burials and morning. How future ages may view our current era is sure to be coloured partially by what objects we use to mark our own passing.
Be it whimsical or serious, conceptual or traditional - GRAVE GOODS seeks to explore how the current generation of artisans view all aspects of burial customs. Original objects in all mediums created after September 1, 2007 are eligible for entry. Artists are being juried based on past works to encourage the creation of new pieces specifically for this exhibit. Grave Goods further explores the themes set out in the Woodstock Museum's special program for 2008 - 'Funeral Rites'.
Exhibit Guest Curator : Darrell Markewitz (
Reflections of the Conquest
,
Out of the Fiery Furnace
)
Special Exhibit Host :
An Droichead / the Bridge
Key Dates:
Jury Entries - Start : November 1, 2007
End : June 1, 2008
Documentation - Due : July 1, 2008
Object Delivery - At the
Woodstock Museum
no latter than September 3, 2008
FOR MORE DETAILS:
Check the web site:
http://www.warehamforge.ca/gravegoods/call.html
Please! Feel free to pass along this open call information to any other artists you know who might be interested.