Modified from a series of posts to NORSEFOLK. The starting topic was '
where can I get a Norse style anvil
':
This is a bit more rambling than my normal postings here. It illustrates what I spend at least an hour a day doing (maybe way more?). How one thing leads to another - and I'm too pig headed to stop...
Keep with the progression - there is some meat here
(ONE - original posting to NORSEFOLK)
I got a call a couple of weeks back by
John Newman
. John is a professional tool and die (pattern maker) and blacksmith here in Ontario. He is well respected for the high quality of his work. John produces and sells a number of specialized tools for blacksmiths, and has been expanding into tools for silversmithing.
His web site
Checking his silversmithing tools on offer will give you some idea of the quality involved.
Anyway, he had called to ask me if I thought there would be any market for *serious* working anvils in the Norse / Early period style. He was considering making up some forged from a middle carbon tool steel, correctly heat treated into working tools. (I mention that, as everything else I have ever seen offered is pretty primitive, and forged from softer mild steel with no hardening involved)
He was looking at a roughly 10 x 10 cm (4 x 4 inch) 'cube' with the bottom surface drawn out to a short square taper for mounting in a wood stump. Now, quality has a cost - his estimate for the use of the tool steel, forged to shape and properly heat treated, would be around $200 CDN.
(TWO)
Now there was a response to that. The kind of thing I expected. In part (name withheld deliberately) :
I think it would be a hard sell at that price. I can buy a similar sized block
of 4140 at the local metal supplier for about $80 US. This steel will work
harden nicely and take on the slight mushroom shape that I have seen on the
originals. Then there are guys like me who just posted a quick and easy method
for making Viking style post anvils. There is a tinsmith stake that is similar
and sold on e-bay for less money.
Part of my reply to THAT:
John has a 200 lb mechanical hammer, which is why he can undertake such a project. And *correctly* heat treat the resulting forgings. It might be reasonable to say that if the raw stock alone costs you $80 (thats in the US as well) that charging double for a finished product is hardly out of line.
I've taken a look at those toy stakes offered on E-bay. They really are bick irons, not anvils. Out of 1 inch diameter mild steel, they would only be useful for forging nails or the very lightest of S hooks. You get exactly what you pay for.
Those wanting to be truly cheap could purchase a block of 4 x 4 mild steel stock as an off cut and water harden it. That would give you something like a realistic working size at least.
I had my own replica Norse anvil custom cast using the extremely large, (and unusual for the VA) sample from Novgrod as the prototype. Created for Parks Canada, these were considerably more expensive!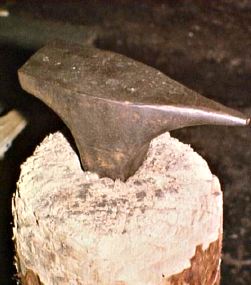 These are about 4 inches wide, maybe 12 - 14 inches long and weigh about 30 lbs.

(THREE)
Carl said:
"...Even on the farms where they smelted
their own iron. Darrell's work in VA smelting has clearly shown the enormous
cost in time and labor of not only smelting but the preparation work in
acquiring the ore and charcoal. I suspect that if we apply modern costs to the
VA labor and materials the cost of the small anvil we are discussing would be
around $1000+. So a small farm that couldn't afford the cost yet still had the
need for the basic farm tools was in a bind...."
My response to that (trying to open up the topic - back to the Viking Age).
There is something important here that Carl points up.
What is the actual availability, and 'cost' of iron objects within the Viking Age?
Far from being an abstract, it is of importance to all of those considering equipping a VA camp or presentation of it. The question is on the same interpretive level as discussions over hand sew vs machine stitching on clothing.
In our modern age, metal is CHEAP and easily available. A prime example would be the use of stamped metal wall studding - in place of wooden 2 x 4's. When did metal beams get cheaper and easier than pieces of trees? This is most certainly NOT the case for the Viking Age! 'When in doubt, use WOOD' should be a basic premise.
Getting raw information on 'metal load per person' is not easy - or simple to calculate. (I think we have tossed this around before.) *To my observation* the better way to think of 'personal load' is to also remember the percentage that an individual shares of the household total. How many tens of kilos of iron are tied up in the rivets in even a small ship as one example. One boat per household? Cauldron hangers and iron cauldrons are heavy - but again these are household, not personal, items.
Balanced against this are measurements of slag heaps at VA 'industrial' iron smelting sites. (evidence from Gotland had been mentioned in the past.) Here other aspects need to be considered:
- Slag is virtually indestructable, iron objects are not.
- Those piles represent decades, sometimes centuries of activity. Iron objects have a much shorter working life - at best a generation or two. This is depending on the object type as well, a (soft) iron knife may wear through sharpening in a dozen years, a chain hanger is not really effected by use.
- Theoretical estimates comparing slag remains to iron production are mostly completely wrong. This relationship is often reported as 1 to 1 - Of the dozens of actual iron smelters I know, the best any of us get as yields is maybe 45 %, more typical is 25 - 30%. And the actual weight of slag is considerably more than 'ore in = slag + iron out'(the academics always seem to forget the addition of melted clay furnace walls).
I'm not sure ANYONE has taken a realistic look at the OVERALL process, in terms of labour, skills, and materials - comparing total resources in against objects out. (How much *food* do you need to provide for the work team?) I know any information I have seen on iron production does not consider raw bloom to bar, or bar to finished object. Peter Crew reported 10% bloom to working bar conversion, but that is not the experience of Sauder& Williams, or my own (admittedly limited) experience.
Anyway, as you have heard me say before, large amounts of personal metal objects are not going to be accurate for the Norse. We all should be considering this when equipping our presentations. Massive individual objects are also even more problematic, because of the extreme physical problems creating them.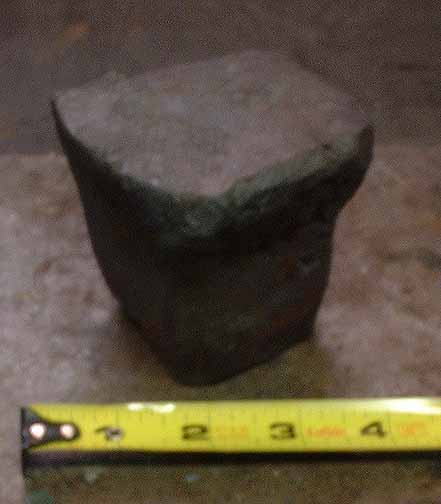 see : Blog -
Early Iron 3, Smelt 2 into Norse Anvil
Just like our original discussion starting point, there is a huge difference between an isolated farm stead, and making some simple hooks, against a professional metalsmith in an urban setting (much less a swordsmith!) You *can* make a hook on a rock using a cooking fire. You can NOT make swords or any of those finished objects (cauldrons, hangers, helmets, axes) unless you have skills - with equipment to back it up.
Getting back to John Newman, and his proposal to create actual 'tool' quality Early Period anvils :
This from Pieh Tools, one of the major North American suppliers of Blacksmithing tools. This is the closest I think you will find in a *new* anvil / stake to the VA artifact samples. Admittedly 'top of the line'
http://www.piehtoolco.com/contents/en-us/d823.html
(about half way down the list)
" Peddinghaus Tinkers Anvil, 7500gm 215x100 mm (Flat face, 2 round and 2 sharp corners fine polished) "



$341.39 US



"These stakes are gorgeous blemish-free polished surfaces; stakes are forged and tempered for excellent performance and longevity. They are carefully engineered to reduce strain-the softer inner body absorbs impact through the hardened surface. Made in Germany."

Item #: 0028010100


Maybe John's offering for pretty much the same thing - at $200 CDN, is not such a bad deal after all??