I had quite differing experiences with the various museums I saw in Denmark:
There were three museums I visited that were basically 'old school' styled presentations: Objects in cases, extremely limited labels, objects generally grouped by type. The lighting varied, but generally was reduced general illumination, with use of some spot lighting in the cases. Some idea of light levels can be gathered by the quality of the images. (I have some experience with longer 'hand held' exposures, so the clarity and shift in colour will give some indication of the relative amount of light available.) None of the museums I visited had any staff visible inside the collections themselves (admittedly I was there 'off season', but I also spent several hours at each museum.)
The
National Museum
in Copenhagen had its 'Pre-history' gallery closed. For them anything before 1000 AD is lumped together. This new presentation includes virtually ALL the Viking Age materials. It was originally scheduled for opening on May 1, but later delayed to May 17.
The Medieval galleries are very clearly old style. The concentration there was on church related pieces, many larger. The stress appeared to be more to 'treasures' rather than everyday objects. Labels were basic: Object / Location / Date - in English and Danish. Sometimes a line or two of context or more detailed description. No registration numbers (very rarely these were visible on the object itself) . If there were a group of like objects (commonly grouped by type) they would share the same three lines and have no further method of identifying them. ('Early Medieval Axes' for a group of a half dozen, obviously mixed construction and combat types) This would make any attempt to get more detailed information from the collection viewing almost impossible. You were not normally allowed to take photographs, and there were no detailed 'guide to the collection' type books available. (Separate topic discussing those.) The gift shop was large with an excellent selection of books ranging from popular overviews to quite detailed archaeological reports.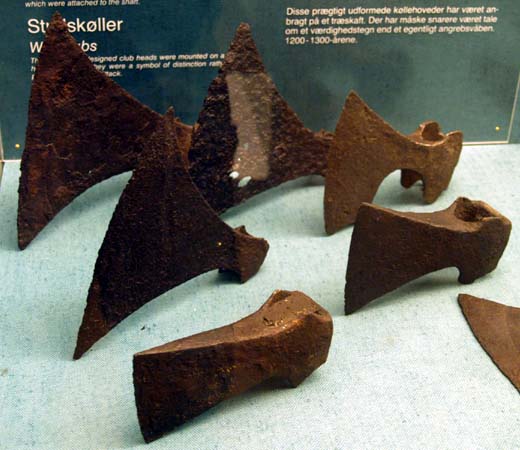 (Group of Early Medieval Axes)
The
Roskilde Museum
is actually a complex of related buildings and presentations, each with a different theme. I spent my time at the 'History of Roskilde' collection. The building housing the historic collections was originally a warehouse and factory from the mid 1700's, so there are a large number of small rooms with theme groupings. The objects generally were grouped by find location. Again labels very short (and here only in Danish) with Object / Find / Date. The individual pieces were more usually identified by case number, but again registration numbers were not visible. I'm not as sure here what the policy on photography may have been, as I was introduced to the collection by curator Jens Ulriksen. The gift shop was a small display in the lobby, with limited books available, few in English.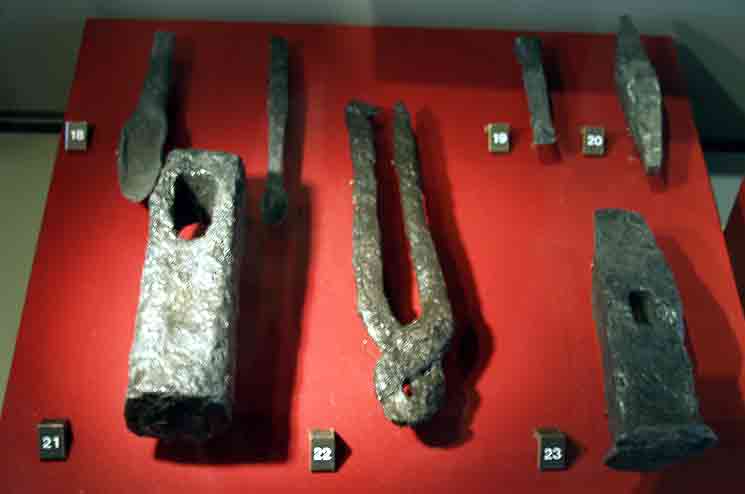 (Group of Blacksmith's tools)
The
Ribe Viking Museum
focuses quite clearly on two aspects of the history of Ribe, with the main thrust of the collection centred on the Viking Age. About the same floor space is dedicated to Medieval, Renassiance, Early Modern objects (with most stress on the earlier materials). Both the building and the presentation itself are more modern, and it shows in the display layout and methods. This unfortuneatly includes the use of dramatic spot lighting in rooms with a generally quite reduced light level (to the determent of possible photography. One excellent feature of the presentation was a full scale diorama of a section of the Viking Age market. This put a large number of the artifacts in a working context (and included a huge number of other pieces not represented in the collection.) I think officially there was not supposed to be photography, but I did see any number of general visitors taking photos. The gift shop was again large and had a fairly good selection of books, but here there was more space given to gift items. Popular works were generally available in English, unfortunately most of the research volumes in Danish only.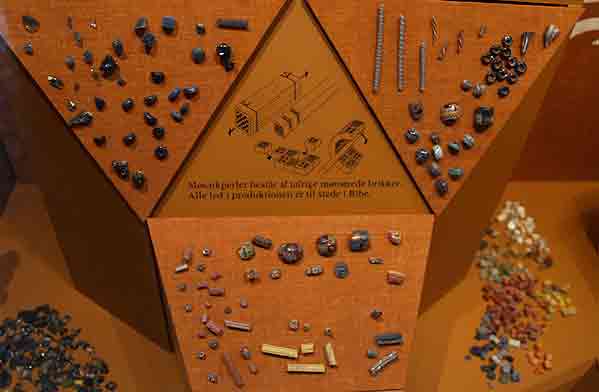 (Glass Working Display)
(Metalworking in the Viking Market scene)
My visit to the
Viking Ship Museum
in Roskilde suffered from a major renovation and my own focus on research of ship building tools. The room normally containing the supporting artifacts was closed, with a new exhibit documenting the recent production of the replica 'Sea Stallion' being installed. Labels were available in Danish and English, with usually a short paragraph of detail. One detail I did like was the working tools in the boat yard area (all replicas of course) were hung in public view. Each had Find / Museum / Registration number. The main ship hall has the preserved remains of a number of the ships on display, backed by detailed scale models for comparison. This hall has a large wall of north facing glass, so photography was simplified (and permitted). There was also a room with walk on reconstructions of two of the ships (primarily intended as a children's activity room. Much of the complex is given over to the docks, the boat construction yard - with the large number of replica ships and boats floating and in use. As outdoor areas, the photography is excellent, outside of the restricted viewing angles. (see an earlier post for ship images). The gift shop here had a very good selection of both popular and research titles, many available in several languages. Most of the detailed research volumes were related to ships (unsurprisingly), but many of those only in Danish.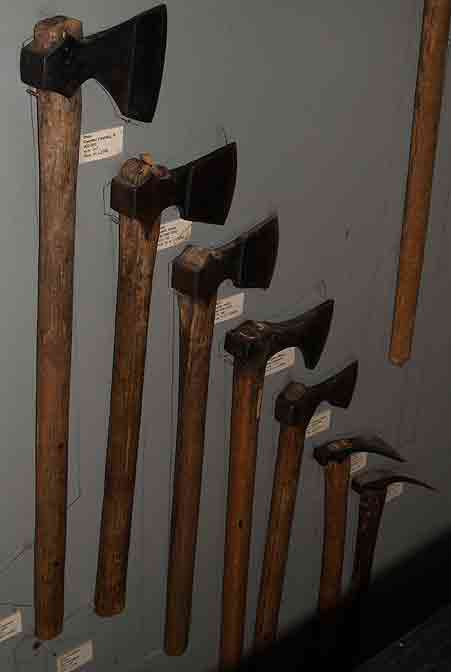 (Working Tools - some of the axes)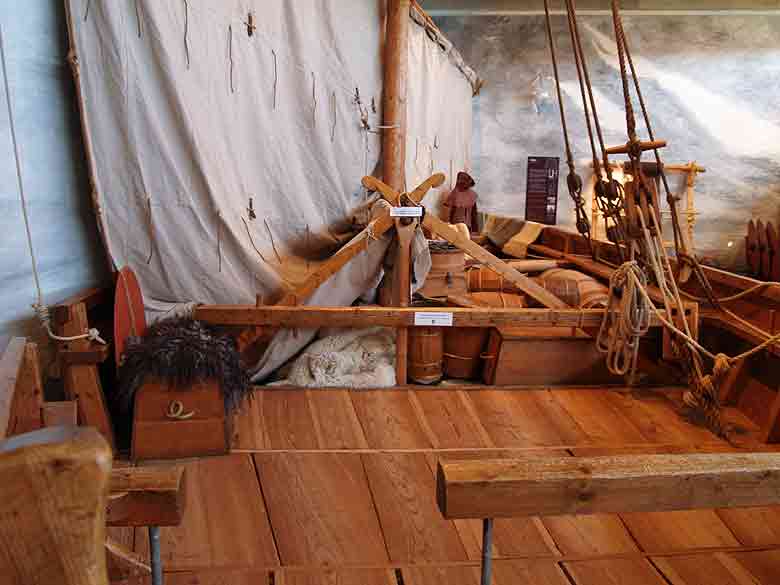 (Children's area with full scale dressed replicas)
Generally I found all the museum collections I visited had greatly reduced information available to the viewer. In many cases only the barest description was provided 'bunch of axes' being typical. Sometimes the objects were not even given enough description to provide real understanding, for example 'spindle whirls' does not inform you about just what those pieces are. With no registration numbers, it would prove very difficult for the research minded to gather detailed information. Rarely were objects placed in any kind of working context. The collections were almost all presented in a formal and static style (Victorian Cabinet of Curiosities). The Viking Ship Museum was the primary exception, but it blurs the line between artifact collection and an experimental archaeology presentation (which in fact are in two distinctive areas of the complex).
I also spent two afternoons at the Ribe Viking Centre, a living history styled presentation. As this museum was not officially open at the time, and also represents an entirely different type of display style, I will leave a discussion of it for another entry.