This is just a fast overview of the results of the smelt here at Wareham on Sunday Oct 12.
Smeltmaster duties were shared by
Neil Peterson
and myself, with
Ken Cook
assisting.
As readers would have seen in earlier postings, the intent here was to lay out a working area based on the archaeology of a Viking Age 'industrial' iron smelting complex at Hals in Iceland. Details on the excavation have been provided by Kevin Smith. The working area was 2 x 2 metres, with the smelter inset into the centre and a slot cut back on one side to allow for access to the smelter wall. The initial set up included a bellows plate and a blow tube tuyere. We also placed a cut out to block in the most likely position of a suitable bellows, but in fact used an electric blower for air.
For this smelt, the remainder of our supply of commerical taconite was exended with a quanity of the poorer quality Virginia rock ore Vandy and I had gathered in 2007.
This set up worked fairly well for the first part of the smelt sequence. About 2 hours after the first addition of ore however, liquid slag from the top of the bowl started to crust over the lower half of of the hole in the bellows plate. An attempt was made to reduce the slag level by pulling out gathers of slag with a steel rod. Due to slow action, lack of experience (or maybe just picking the wrong solution), the air hole beame blocked and the interior temperature of the smelter began to crash. Through some frantic work, the tuyere was changed back to our usual insert type, and we were able to salvage the smelt and slowly increase the internal temperatures again. This modification marked the end of our intended experiment, but the smelt was able to continue to completion.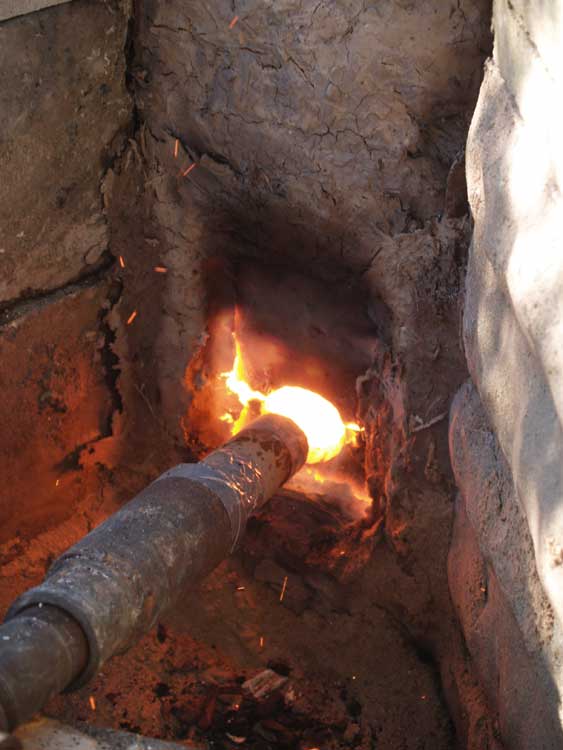 The initial plan was to use a top extraction. It proved extremely difficult to free the resulting bloom. So in the end, a bottom extraction through the tap arch was used, resulting in considerable damage to the smelter. One other effect was that the bloom was considerably colder than is usual upon removal from the smelter. This greatly reduced the amount of consolodation and shaping / cutting that could be undertaken. (The relative exhaustion of team members not withstanding!)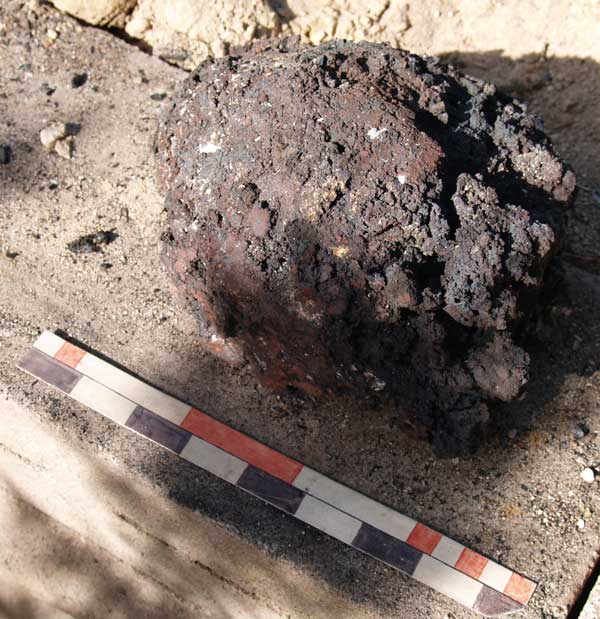 Although the full smelt could not be carried out using the intended bellows plate / blow tube combination, the end result was a good bloom. The yield is a bit lower than our usual.
Total bloom wieght - 4.9 kg
Total ore added - 23 kg
Yield - 18%
Total charcoal - 48 kg
Total Time - 6 hours (plus extraction)